e-Cross - Cross Process of Continuous Beam
[ ETools - Web Site for Educational Software in Engineering ]
---


Copyright: Luiz Fernando Martha & André Cahn Nunes
Version 1.01, June 2000
Pontifical Catholic University of Rio de Janeiro - PUC-Rio
Department of Civil Engineering and
Technology Group on Computer Graphics - Tecgraf


This program demonstrates how the Cross Process
(Moment Distribution Method) works for a continuous beam.





[ Off-line version | On-line version | Motivation | Manual | Revisions ]
---
Installation requirement
This software was developed in Java 2 and requires the installation of
JRE - Java(TM) 2 Runtime Enviroment, including Java Plug-in.
This is available in the following URL address:
https://java.sun.com/products/jdk/1.2/jre/download-windows.html
The installation software is also available by FTP:
https://www.tecgraf.puc-rio.br/ftp_pub/lfm/jre-1_2_2_005-win-i.exe.
---
Image of e-Cross off-line version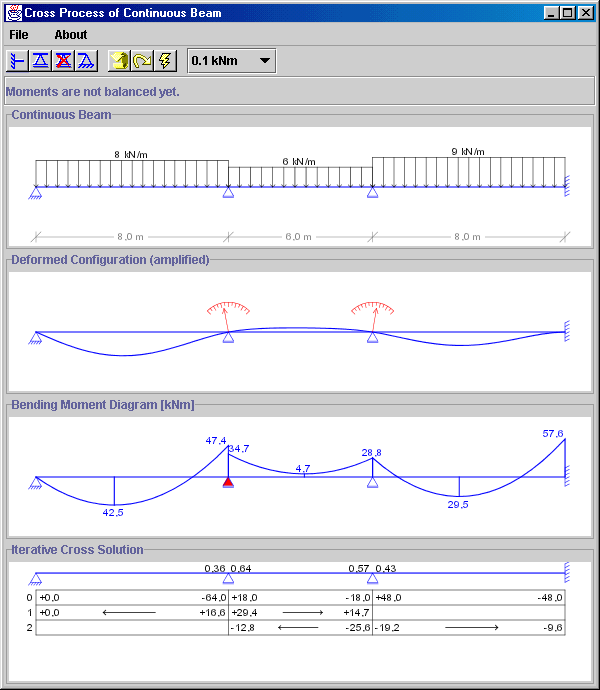 ---
Download of e-Cross off-line version
---
Run e-Cross on-line version
Go to e-Cross on-line page.
It is required the installation of Java(TM) 2 Runtime Enviroment (JRE), including Java Plug-in.
The on-line version DOES NOT allow saving and opening of models in local disk.
---
Motivation
The developement of this educational tool was motivated by an excellent text book by Richard White, Peter Gergely, and Robert Sexsmith from Cornell University: Structural Engineering, vol. 2, John Wiley, 1976. The image below, which was scanned from that book, says by itself. In the book, the Moment Distribution Method, devised by Hardy Cross ("Analysis of Continuous Frames by Distributing Fixed-End Moments," Transactions, ASCE, Paper no. 1793, vol. 96, 1936), is explained with the aid of a physical experiment shown in this image. The e-Cross program made available in this web site may be seen as a virtual version of this experiment.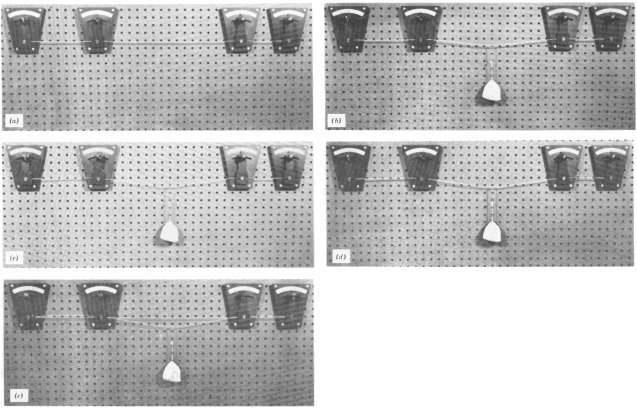 ---
Manual
---
Revisions
Version 1.01: Fixed display of moment distribution coefficients in Solution Canvas. In version 1.00, the left and right coefficient values at each internal node were swapped. The solution was correct, the mistake was only in the display of coefficient values.
---

Last update: June 26, 2000 by Luiz Fernando Martha
---